Interview with Cynthia Clawson 
From The Howard Payne University magazine, The Link.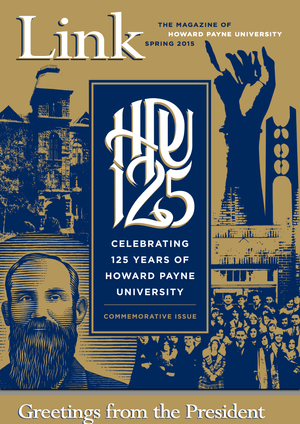 You grew up as the daughter of a pastor and his wife. How did that help shape
your musical life?
We moved a lot, and I think that helped me in everything. I had to make new friends. I had to learn to live among different people and even their
styles of music. I learned how to communicate.
 
What was the process that led you to Howard Payne?
My dad went to a preaching conference there. He said, "I'm going to Howard Payne. Would you like to go up there and check it out?" I had already visited Baylor. I went to Howard Payne and met Mrs. [Sara] Baker. I loved the way Old Main looked. I thought, "This is college." It was just kind of a calling, I guess. I loved it. After I got there, it wasn't as big as Baylor but I felt like every single faculty member cared about me.
 
You mentioned Sara Baker. How big of an influence did she become during your college years?
I talked to her yesterday on the phone. She's still my voice teacher. She was my substitute mother and was always so wonderful to me. She still sings better than I do.
 
Were you one of the original Heritage Singers?
Yes, I was. I was an original member of Delta Chi Rho and an original Heritage Singer.
 
What was the genesis of the Heritage Singers?
Dr. [O.J.] Bryson started that. Dr. [Guy D.] Newman, who was president then, wanted a group that would go around and advertise for Howard Payne. We were like a commercial.
 
You were one of the first members of Delta Chi Rho, too, you said. How was that organization created?
We put that together in the attic of Veda Hodge. We were always going up there late at night to have jam sessions and talk about stuff. We just said, "Let's start a new club." We also called ourselves "The Terrific Twelve." We did little shenanigans here and there! [Laughs]
The first way we made ourselves known was through a show we did at Friday chapel. Monday was educational, Wednesday was spiritual and Friday was for whatever we wanted to do. We just put together shows. We were like Judy Garland and Mickey Rooney – or the Little Rascals!
 
While you were a student at HPU, you performed on the Arthur Godfrey Talent Show. What are your memo- ries of that experience?
The Heritage Singers flew to Hollywood to be on it first, and then Arthur Godfrey asked me back because I was red- headed and loud and everything, and he liked the way I sang.
 
Do you remember what you sang on those shows?
I don't remember what we sang when we went, but when I went later I sang "My Man," because Barbra Streisand had just made the movie Funny Girl and, by that time, I had already seen it about 14 times.
So you knew it well!
I ended up seeing the movie about 26 times – once in Hong Kong, in Chinese, and once in India, with Indian subtitles. After my senior year, I went on this tour and saw it in those places. I was going to be Barbra Streisand!
 
Was she a big influence on your musical taste?
Yeah, I liked all those ballads. When I came to college, I wanted to be Julie Andrews and then, during my sophomore year, I liked Petula Clark.
A few years after I got out of school, a producer said, "Tell me about your singing. Who are you? What do you sing?" I said, "Well, it's according to what kind of song you want. If you want a sort of Barbra Streisand thing, I can sound like Barbra Streisand." I don't think I really tried to sound like her but I could emulate that style. He said, "No. Who are you?" I said, "Well, I don't know," and I started crying. I was just mortified. He said, "You need to go find out who you are." It was the best thing, though. Around that same time I met George Gagliardi, a song- writer. There were songs that nobody else had ever sung, so I sang them like I sang them.
What is the process of determining who you are and not just trying to imitate people you like?
I really think it has to do with the material. I watch America's Got Talent and The Voice and people sound so much alike. It's not like in the old days, when everybody had a defi- nite sound. Carole King sounded like Carole King singing
Carole King songs. I think it's when you get original material that nobody else has ever done and you have to craft it and make it your song.
 
You have the ability to communicate lyrics or hymn text as if you're just sharing your thoughts. it's a very conversational approach to performing. What is your process to engage with material that way?
When I was in fifth or sixth grade, old enough to pick a song to sing in church, my father would ask, "What are you going to be singing?" I'd say such-and-such and he'd say, "Well, darling, I don't think you need to sing that song. You don't know what you're talking about." I'd pick songs about sin and degradation and grace, but I hadn't gotten there yet. He made me be really honest about lyrics.
My friend George Gagliardi came along and he would say, "How are you feeling today?" I'd say, "Oh, kind of depressed," and he would write lyrics for me where I was. Then, of course, I married Ragan, who is a lyricist.
I also find that some of the songs that I sang forever I've discarded because I'm not there anymore. I try to sing from where I am at that point, psychologically and emotionally.
 
What happens, then, during the course of a concert, when you've got several songs to perform and each one comes from a different emotional place? Is it hard to engage equally in every song?
There are some songs I can't wait to sing, but I may have gone through a thought process even during the concert so that the seventh or eighth song is going to be different than I had planned on it being. I have really wonderful accompa- nists, though, and they know me so well.
If it's not fresh for me, then it's not going to be fresh for anyone else. It's going to be rote. I've had people say, "That didn't sound like it did on the album." Well, that's because I was in a different spot on the album.
 
Do you ever get a reaction from someone in the audience that affects your approach in that moment?
Oh yeah, I think probably every single time. My father taught me to look people in the eye when I sing, because that's the way he preached. He had no fear.
 
After the Godfrey performance, you went back to Hollywood to be on the summer replacement show for The Carol Burnett Show, called CBS Newcomers. Was it around that time when you made your first album?
I made my first album, which is called One In The Spirit, before I went to Los Angeles that first time. It came out
during that time, in 1971.
What was the experience like for you to see a brand- new copy of your first album?
Well, we had a little bit of a tussle over that because I really didn't think it was very good yet, but then I probably would think that about everything. When it came, I was kind of embarrassed. I thought, "Oh, it's not very good," but it was my first.
 
There have been a lot of technological advances in recording since then, but how is the experience of making an album different now for you as a singer?
Well, on that one, everybody was in the studio at once and that was wonderful. It was that "live" sort of feeling. Now you can go into your bedroom and make an album. It's changed so much. With Auto-Tune and other things, it's almost like singers are just robots now. It's taken the heart out of it.
You can do it so quickly and that's kind of nice. I can take two days and do an album, when before it would have taken longer, but it's kind of slick now. Also, with downloads and things like that, people hear one song and that's what they want. The craft and the angst you'd go through in making an album – "That song will go here," "No, let's put that song down here" – doesn't matter as much anymore.
 
Earlier, you mentioned your husband. Did you meet during the course of the Celebrate Life project?
Yes. Ragan was an actor in New York and was writing it with Buryl Red. I met Buryl while I was living in L.A. I came to Dallas to work with Buryl, who was orchestrating something. He said, "I'm going to do this musical. Would you want to sing some solos?" I went to Nashville and did the solos while Ragan was still in New York.
Then, the following summer, Ragan came down to North Carolina, to Ridgecrest, and I was there to do the premiere and I met him. He asked me to marry him that day.
 
That day?
We realized we had a whole lot of connections, we liked the same actors and he liked the way I sang and all that. "You know, we'll probably get married." "Yeah, sure."
I called my sister that night and said, "I met this guy and I think I'm going to marry him." She said, "Oh yeah, you've said that before," [laughs] because I had, about several people! I said, "No, no, this is different!"
We got married a few months later. It's been 42 years, so I guess something worked!
You sang at a Billy graham Crusade. What was that experience like?
It was in Nashville in 1979. I was really excited because it was a big deal to get to sing at a Billy Graham Crusade. I went to his Crusade in Houston when I was two years old. Billy Graham was huge in our lives.
i'd also like to discuss your involvement with the oscar-winning 1985 movie The Trip To Bountiful, which featured your version of "Softly and Tenderly." How did that take place?
I went to do a concert at Chuck Swindoll's church, and I sang a whole bunch of hymns. J.A.C. Redford, who did the music for The Trip To Bountiful, was in the congregation. I did that on Sunday and on Tuesday he called me and said, "I'm working on this film. It's kind of a personal film." They called it "personal" because they weren't going to pay me much mon- ey. [Laughs] He said, "It's called The Trip To Bountiful and it's by playwright Horton Foote." I said, "Yeah, okay, alrighty! You got me!" So I went out to Los Angeles and did it.
I've made connections to so many people because of that song. Their grandmother sang it, their mother sang it, they sang it. They remember it from their past. I would sing at concerts and people would ask, "Did you sing in a movie?" I'd say, "Yeah."
What was your experience of seeing that movie for the first time?
A whole bunch of people from my church in Louisville, Kentucky, got together and went to this little theatre and saw it. That character was so much like my daddy's mother. Then she [actress Geraldine Page] won the Academy Award for that and they played "Softly and Tenderly" when she went up to accept the award. It was a big part of my life.
 
Speaking of awards, you won a grammy and five Dove awards. What were those experiences like?
The Grammy was wonderful because I won it with a whole bunch of people: Andraé Crouch, Reba [Rambo], B.J. Thomas, several of us.
 
What was the project?
It was called The Lord's Prayer. Dony [McGuire] and Reba [Rambo] had written a musical based on the Lord's
Prayer. I sang the first song, which is called "Teach Us To Pray." I walked out there to sing, six months pregnant, and I looked down and saw Streisand, Shirley Caesar, Dionne Warwick, Aretha [Franklin] – the whole front row with all these women singers. It was incredible.
I won some Doves, and that was nice, but that Grammy thing ... Also, that was the first time the Grammys had ever done a gospel presentation. So Delta Chi Rho, Heritage Singers, first Grammy gospel presentation – I'm sort of a pioneer! [Laughs] I'm a sixth-generation Texas woman, so I should be!
 
You've kept a close relationship with HPU through the years. Recently, you accepted a leadership role in HPU's campaign to become an all-Steinway School. How did you become involved with that project?
Diana and Bill [Ellis] came to see us and she said, "I've got this idea." I really like them a lot. So I said, "Yeah, I'll do it. Sure." I didn't even think about it. It's been fun to try to raise money for this effort.
 
How different is the quality of a Steinway piano?
It makes you want to sing better and play better. When I was a student at Howard Payne, I would ask Mrs. Baker if I could go rehearse on the stage in Mims because that's where the Steinway was located. There was just something about it.
 
How big of an impact would it have on our music program for HPU to be an all-Steinway School?
Musicians would come because it's an All-Steinway School. It just says, "We're special." We've always known we're special at Howard Payne, "where everybody is some- body," but having that Steinway stamp...
 
What do you see as the key qualities that have made HPU special through the years?
The faculty members cherish every student. Also, when I look back now, I realize how safe it was. I went to school during the Vietnam War and the world was on fire. I would get to the outskirts of Brownwood, coming into town, and it was a haven. We knew people cared about us. I don't think I'd be doing what I am today had I not gone to Howard Payne, because I got that freedom to express myself. There's even more freedom now than there was when we were there. You can wear shorts!
 
To learn more about HPU's all-Steinway School campaign, please contact the office of institutional advancement at development@hputx.edu or 800-950-8465.
Whispering Hope is here!
All songs were personally chosen by Cynthia.
Included on this release are brand new recordings never heard anywhere else, unreleased songs and rarities as well as many of your favorites. 
Available only as a digital MP3 album, EXCLUSIVELY from CynthiaClawson.com. Buy it now in our store!

Madison Gate Records has released a soundtrack album for the drama Heaven is for Real. The album features the film's original music composed, arranged and conducted by Nick Glennie-Smith who previously collaborated with the movie's director Randall Wallace on his previous three movies including The Man in the Iron Mask, We Were Soldiers and Secretariat. The composer and director have also composed the original song You Are Home, which is featured on the album in three different versions, including a version by Grammy and Dove award winning artist, CYNTHIA CLAWSON. The soundtrack has been released digitally on iTunes, where you can also check out audio clips. A separate soundtrack featuring songs inspired by the film is already available. Heaven is for Real starring Greg Kinnear, Kelly Reilly, Connor Corum, Margo Martindale and Thomas Haden Church follows a real-life couple whose son claims to have visited Heaven during a near death experience. The film was released April 16, 2014 by Sony Pictures. For more information about the drama, visit the official movie website and for more information about Cynthia Clawson visit cynthiaclawson.com